WEI believes that creating a culture of savings is key to positive change. Group-based micro-savings encourages group members to save and work together toward a common, mutually beneficial goal. When working together in a group, collaboration around new income generating initiatives often occurs such as basket weaving, soap making, and agricultural projects. Women learn accountability when they are working with and for each other. No project is finished until all members have achieved their common savings goal.
In 2016, with support, financial knowledge and more consistent income, the women's groups collectively saved $62,800!
In addition, in 2016, women's group members started 30 new small businesses- from a soap selling store, to chicken rearing, to a tree and plant nursery.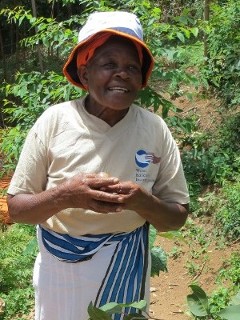 This is Hellen Mutisya, Kenya women's group member, who is now the proud owner of not only TWO water tanks, but also TWO solar panels! Hellen went from being a widow with monkeys eating all her plants, to being a WEI group member who learned how to keep her plants safe, earn money, and then save it to contribute to her group. Hellen now has a small nursery business where she sells mango and avocado tree seedlings, passion fruit seedlings, and other local plants.